Case report

Open Access

Open Peer Review
This article has Open Peer Review reports available.
FTLD-TDP with motor neuron disease, visuospatial impairment and a progressive supranuclear palsy-like syndrome: broadening the clinical phenotype of TDP-43 proteinopathies. A report of three cases
Received: 3 October 2010
Accepted: 10 May 2011
Published: 10 May 2011
Abstract
Background
Frontotemporal lobar degeneration with ubiquitin and TDP-43 positive neuronal inclusions represents a novel entity (FTLD-TDP) that may be associated with motor neuron disease (FTLD-MND); involvement of extrapyramidal and other systems has also been reported.
Case presentation
We present three cases with similar clinical symptoms, including Parkinsonism, supranuclear gaze palsy, visuospatial impairment and a behavioral variant of frontotemporal dementia, associated with either clinically possible or definite MND. Neuropathological examination revealed hallmarks of FTLD-TDP with major involvement of subcortical and, in particular, mesencephalic structures. These cases differed in onset and progression of clinical manifestations as well as distribution of histopathological changes in the brain and spinal cord. Two cases were sporadic, whereas the third case had a pathological variation in the progranulin gene 102 delC.
Conclusions
Association of a "progressive supranuclear palsy-like" syndrome with marked visuospatial impairment, motor neuron disease and early behavioral disturbances may represent a clinically distinct phenotype of FTLD-TDP. Our observations further support the concept that TDP-43 proteinopathies represent a spectrum of disorders, where preferential localization of pathogenetic inclusions and neuronal cell loss defines clinical phenotypes ranging from frontotemporal dementia with or without motor neuron disease, to corticobasal syndrome and to a progressive supranuclear palsy-like syndrome.
Keywords
Multiple System AtrophyProgressive Supranuclear PalsyMotor Neuron DiseaseFrontotemporal DementiaProgressive Supranuclear Palsy
Background
Amyotrophic lateral sclerosis (ALS) and frontotemporal dementia (FTD) caused by frontotemporal lobar degeneration with ubiquitin and transactive response DNA binding protein 43 (TDP-43) positive inclusions (FTLD-TDP) represent two different manifestations of the same neurodegenerative disease [1]. Distribution of TDP-43 related neuropathological changes include various anatomical regions with differences in the predominance of lesions, suggesting that TDP-43 proteinopathies reflect the spectrum of a multisystem disorder [2–4]. Mutations in the progranulin (PGRN) gene, located on chromosome 17, have been linked to inherited forms associated with neuropathologically detectable TDP-43 proteinopathy and with different clinical symptomatology [5–7]. Moreover, an increasing number of variations within PGRN have been described http://www.molgen.ua.ac.be/FTDMutations.
Progressive supranuclear palsy (PSP) is characterized by early gait disturbances and falls, axial rigidity, vertical gaze palsy, and subcortical dementia [8]. PSP is considered to be a tauopathy; however, a PSP-like syndrome has been associated with ubiquitin-only-immunoreactive neuronal changes [9], and thus could be part of the clinical picture of "ALS-plus syndrome" caused by TDP-43 proteinopathy [2, 10]. Moreover, FTLD-TDP may have a presentation similar to corticobasal degeneration [11] indicating that these disorders can present with a spectrum of clinical phenotypes that also overlaps other neurodegenerative disorders.
Here we describe three cases, including one with a variation in the PGRN gene, with a clinical presentation reminiscent of PSP ("PSP-like syndrome") in patients with FTLD-TDP (with or without MND) that supports the notion of a further, clinically distinguishable, phenotype within the spectrum of TDP-43 proteinopathies.
Clinical and neuropathological data were obtained from three patients followed in the Departments of Neurology, Thomayer Teaching Hospital and Motol Teaching Hospital, Prague, CZ. Patients were assessed using standardized diagnostic tools: magnetic resonance (MRI), electromyography (EMG), routine blood analysis, and neuropsychological assessments. All procedures were explained to the patients and their caregivers, and informed consent was obtained in all cases. All data were analyzed with respect for patient privacy and the protocol was approved by the Ethics Committee of Thomayer Teaching Hospital.
During autopsy, formalin-fixed, paraffin-embedded blocks were obtained from the following regions: frontal, cingulate, temporal, parietal and occipital cortices and subcortical white matter, basal ganglia, thalamus, hippocampus, cerebellum, and brainstem. For immunohistochemistry 5 μm thick sections of formalin-fixed and paraffin-embedded tissue were used with primary antibodies against the following antigens: anti-tau AT8 (1:200, Pierce Biotechnology, Rockford, IL, USA, pS202/pT205); ubiquitin (1:200, rabbit polyclonal; Dako, Glostrup, Denmark); protein p62 (1:4,000, guinea pig polyclonal; Progen Biotechnik GmbH, Heidelberg, Germany); protein TDP-43 (1:2.000, mouse monoclonal; Abnova Corp., Taipei, Taiwan, and 1:100, polyclonal; ProteinTech Group, Chicago, Il, USA), and phospho-TDP-43 (1:2.000, mouse monoclonal, pS409/410; Cosmo Bio Co. Ltd, Tokyo, Japan). Semiquantitatively (0 = none; 1 = mild or few; 2 = moderate; 3 = severe or many), we scored different types of inclusions in selected brain areas.
Genomic DNA was extracted from frozen bone marrow samples (autopsy) using an isolating kit. The microtubule-associated protein (MAPT) exon 1-10, transactive response DNA binding protein (TARDBP) exons 2-6, progranulin (PGRN) exons 0-12 and respective flanking intronic regions were amplified as described previously. Products were examined using agarose gel electrophoresis, treated with ExoSAP-IT (USB, Cleveland, OH, USA), asymmetrically amplified using the DTCS Quick Start Kit (Beckman Coulter, Fullerton, CA, USA), and analyzed on a CEQ 8000 GeXP Genetic Analysis System (Beckman Coulter). The resulting sequences were compared to published TARDBP, MAPT, and PGRN sequences http://www.ncbi.nlm.nih.gov.
Case presentation
Clinical data of the three patients are summarized in (Table
1
) and the temporal evolution of symptoms in (Figure
1
).
Table 1
Summary of clinical presentations
| | Case 1 | Case 2 | Case 3 |
| --- | --- | --- | --- |
| Age of onset | 72 | 49 | 64 |
| Duration (months) | 18 | 25 | 29 |
| Clinical appearance (syndrome) | MND/PSP/FTLD | FTLD | FTLD/PSP |
| Central motoneuron dysfunction | Hyperreflexia | Generalized spasticity | Right-sided spasticity |
| Periferal motoneuron dysfunction | Yes, EMG proven | Interosseal amyotrophy | No |
| Dysarthria/dysphagia | Yes, prominent | Yes, later | Yes-early/prominent |
| Early falls | Yes | Yes | Yes |
| Eyelid opening apraxia | Early | Late | Present |
| Oculomotoricity, conjugate ocular pursuit movements | Abnormal/Voluntar movements reduced both horisontally and vertically | Initially normal, reduced mainly vertically, but after one year | Reduced mainly vertically |
| Saccades | Slow, hypometric | Slow, hypometric | Slow, hypometric |
| Bradykinesia | Axial predominance | Axial and limbs | Axial predominance |
| Rigidity | Axial predominance | Axial and limbs | Axial predominance |
| Tremor | No | No | No |
| Dystonia | No | Facial movements, neck anteflexion and lateroflexion | Late - retrocollis |
| Response to L-dopa | Poor | Poor | Non |
| Executive dysfunction | Prominent | Prominent | Prominent |
| Insight | Lacking | Present at the beginning | Lacking |
| Frontal release signs | Grasping/spastic laughter/disinhibited behavior | Behavioral changes, dysexecutive syndrome | Behavioral changes |
| Memory problems | Minimal | Minimal, effect of cueing | Impaired |
| Visuospatial dysfunction | Impaired | Impaired | Impaired |
| Gait apraxia | Early feature | Present early | Early |
| Autonomic function | N/A | Not present | Not present |
| | Case 1 | Case 2 | Case 3 |
| MRI | Frontotemporal atrophy with left predominance | Generalized atrophy with mild predominance periventriculary and frontal | Frontotemporal and brainstem atrophy |
| Cerebrospinal fluid | Normal | Not done | Normal |
| EMG | Probable ALS according to El Escorial criteria, normal conduction | Not done | Normal conduction, no denervation |
| Pathological diagnosis | FTLD-TDP/MND | FTLD-TDP/MND | FTLD-TDP/MND |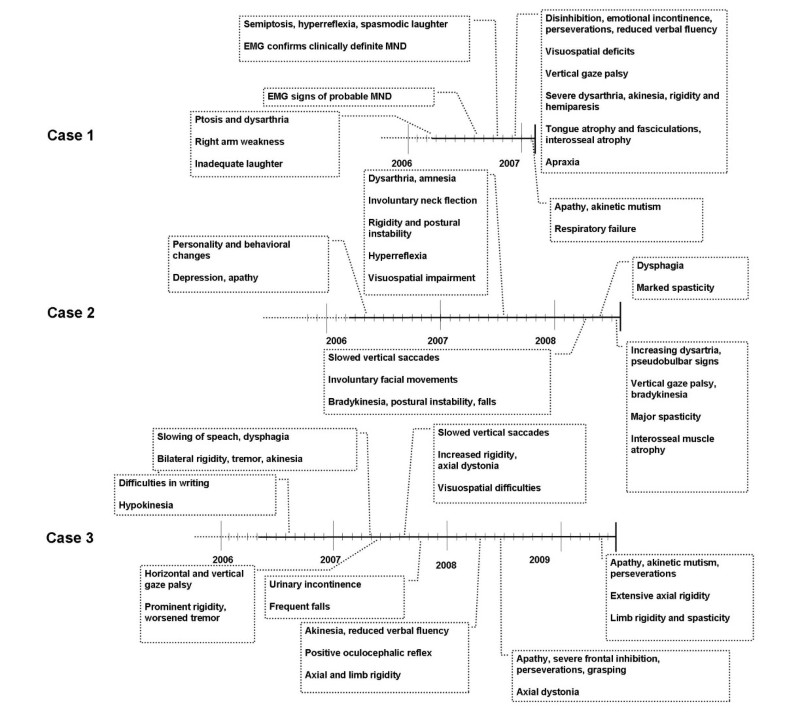 Conclusions
We present three autopsy proven cases of FTLD-TDP with clinical manifestation as "progressive supranuclear palsy plus" syndrome. A summary of our study observations include: (i) during the clinical course, but not as initial symptoms, all patients showed clinical hallmarks of PSP (subcortical dementia, axial predominant akinesia and rigidity, supranuclear gaze abnormalities, and frequent falls), (ii) additionally, upper and/or lower motor neuron involvement and a frontal behavioral syndrome ("ALS-plus" syndrome) were also detected, (iii) FTLD-TDP was confirmed neuropathologically in all cases, (iv) mutations in MAPT, TARDBP were not observed, while in one patient we found a PGRN mutation (Case 3), and (v) the extent of histopathological changes correlated positively with progression and were widespread in subcortical structures.
All cases shared some common features, although there were also some important differences (Table 1, Figure 1 and 2).
Case 1 was classified as clinically definite ALS within the first year. Frontal lobe involvement with behavioral changes and a "PSP-like" syndrome with Parkinsonism and supranuclear ophthalmoplegia developed only later. Illness duration was 14 months. Neuronal inclusions were common in the hippocampal and temporal areas, caudate nucleus, thalamus, and oculomotor complex, and in the inferior olive, while TDP-43 immunoreactive neurites and glial inclusions and neuronal loss was prominent in the caudate nucleus, locus coeruleus, substantia nigra, and oculomotor nuclei. Skein-like inclusions were detected in the hypoglossal nucleus.
In contrast, the "PSP-like" syndrome in Case 2 appeared earlier, was associated with behavioral signs of FTD and Parkinsonism, progressed slowly to dementia and severe rigidity with supranuclear gaze palsy. The clinical course was longer (4 years) and lower motor neuron signs came very late. Neuronal inclusions (including skein-like neurites and glial pathology) were more widespread and strongly associated with subcortical and brainstem nuclei.
Case 3 had a clinical picture that was most typical for PSP, linked to FTD and upper motor neuron involvement. Neuronal inclusions and neurites and glial inclusions had dispositions similar to Case 2 (hippocampal areas, fronto-temporal cortex, caudate, putamen, substantia nigra). A pathogenic mutation (102 delC) in the PGRN gene was also detected.
Clinical manifestations, age of onset, duration of illness and distribution of neuropathological changes of PGRN gene mutation carriers are variable: the majority have progressive aphasia or frontotemporal dementia, but without symptoms of MND or PSP [13, 15]. Familial forms of FTLD expressing prominent parkinsonian features have been linked to mutations in MAPT, formerly frontotemporal dementia and Parkinsonism linked to chromosome 17 (FTDP-17) [16]. We did not observe tau pathology and MAPT gene analysis excluded mutations in all presented cases. More recently, MAPT negative cases with a familial setting were shown to harbor mutations in the PGRN gene [17]. These cases were neuropathologically identified as tau negative but ubiquitin-positive [5, 18]. The clinical and neuropathological phenotype and age of disease onset, tends to be highly variable not only among families but even between individuals in one family [19]. Case 3 expands this group to include the PSP-like phenotype, in addition to primary progressive aphasia [20] or corticobasal syndrome [21].
In summary, criteria for probable PSP [8] were fulfilled in Cases 1 and 2 (Table 1). In Case 3, all signs were present, but the evolution lasted more than one year. Overall, features of PSP developed later in the course of our patients. It must be noted that none were diagnosed clinically as PSP. The severe frontal and temporal atrophy on MRI (Figure 2) was oriented more towards FTLD; however all displayed considerable features of PSP. It is noteworthy, that in addition to subcortical dementia, typical for PSP [22], all of our patients developed considerable behavioral and personality changes compatible with behavioral variants of FTD. This becomes most apparent in Case 3 (apathy, perseverations, stereotypical behavior, lack of insight and dynamic aphasia), however, rigidity, oculomotor findings, considerably restricted verbal fluency and the absence of disinhibition or compulsivity are less typical of FTD. MRI scans of our patients showed only mild asymmetry of atrophy and the degree of frontal and temporal atrophy was not as impressive as in many other FTLD-TDP-43 cases. The subcortical white matter changes in Case 3 are similar to findings in PGRN mutation carriers [23]. Finally, MRIs in our patients did not show posterior fossa findings evoking PSP (such as hummingbird sing, thinning of superior cerebellar peduncle or prominent mesencephalic atrophy).
All patients corresponded to possible/probable MND with significant upper motor neuron signs in Case 3, lower motor neuron involvement in Case 2, and both in Case 1 [12]. The extent of histopathological changes (Figure 4) correlated positively with progression.
The distribution of histopathological changes in particular TDP-43 immunoreactive profiles involved subcortical and brainstem structures somewhat more than reported previously, in association with FTLD-TDP subtypes [24], supporting the notion that TDP-43 proteinopathies are representatives of a multisystem proteinopathy [25] with involvement of anatomical regions corresponding to predominant clinical symptoms. The progression rate of clinical features differed in our cases (Figure 1).
An important finding in our patients is the impairment of visuospatial functions in all three cases. This profile is rather uncommon in parkinsonian syndromes. A large prospective cohort of patients with PSP and multiple system atrophy (MSA) demonstrated the existence of a cognitive profile similar to that previously reported in idiopathic Parkinson´s disease. Visuospatial functions scores, measured on the dementia rating scale (DRS), for construction and conceptualization, were largely preserved [26]. Another study suggested that visuospatial functions are not consistently impaired in atypical parkinsonian syndromes, but the degree and pattern varied across the diseases. This could imply a different neural basis in each condition, since the most prominent visuospatial impairment was linked to corticobasal degeneration [27]. There are other findings however, which suggest that visuospatial and visuoperceptual dysfunctions reflect structural grey matter changes in temporo-parietal cortical regions of Parkinson´s disease patients [28].
Severe visuospatial impairment is not a characteristic of motor neuron disease. Patients with FTLD-MND and ubiquitin inclusions whose visuospatial skills were tested by copying drawings and the visual object and space perception battery (VOSP) subtests, did not show remarkable alterations [29].
On the other hand, visuospatial deficits have been reported in FTLD patients. Koedam et al. recently published a very interesting observation; neuropsychological profiles, including visuospatial impairment, does not differ between frontotemporal dementia patients with and without lobar atrophy, although patients without atrophy, on MRI, were less severely demented [30]. Other authors have suggested that parietal deficits including visuospatial dysfunction may be a prominent feature of PGRN mutations [31].
A very similar observation to ours demonstrated a movement disorder resembling PSP and associated with dementia and MND-like pathology. Besides selective verbal and action processing, there was visual recall and recognition (Door and People test (DPT)) and lower construction and conceptualization scores (VOSP). The most important neuropathological findings were abundant ubiquitin-positive inclusions, which were also detected in areas without apparent atrophy or neuronal loss [32].
There have been only very limited reports of oculomotor abnormalities in FTLD-MND. In our cases we found significant neuropathological changes in the mesencephalic tegmentum. This supports the notion that vulnerability patterns may differ in TDP-43 proteinopathies (sporadic and genetic forms) leading to variable clinical phenotypes. Indeed, our observations with several previous studies indicate that sporadic TDP-43 proteinopathies may present as MND, FTD, progressive aphasia, FTD with MND, corticobasal syndrome [11], and PSP-like phenotypes associated with FTD and features of MND. These clinical phenotypes may show overlap with tauopathies; indeed PSP (tauopathy) may be also associated with MND and corticospinal tract degeneration [33]. Furthermore, these clinical phenotypes were reported in cases with an established genetic cause, linked not only to PGRN mutations but also to mutations in TARDBP. MND, FTLD-MND, and FTD with supranuclear palsy having also been associated with TARDBP variations [34–36], demonstrating the complexity of clinico-pathological and genetic relations.
In conclusion, our observation suggests that: (i) association of "PSP-like" to "ALS-plus" syndromes in the same patient may represent a clinically distinguishable entity within a broad spectrum of TDP-43 positive neurodegeneration; (ii) this clinical manifestation develops irrespective of genetic variation in TARDBP, MAPT, and PGRN; (iii) the clinical picture seems to be related to preferential localization of pathogenetic inclusions and neuronal cell loss rather than specific pathological mechanisms of the disease itself; and (iv) motor neuron involvement, visuospatial and frontal behavioral signs should be systematically explored in atypical PSP patients.
Consent
Written informed consent was obtained in one case from the patient and in two cases from patient´s relatives for publication of this case report and any accompanying images. A copy of the written consent is available for review by the Editor-in-Chief of this journal.
Abbreviations
(FTD):

Frontotemporal dementia
(FTLD-TDP):

Frontotemporal lobar degeneration with ubiquitin and TDP-43 positive neuronal inclusions
(FTLD-MND):

Frontotemporal lobar degeneration associated with motor neuron disease
(ALS):

Amyotrophic lateral sclerosis
(TDP-43):

Transactive response DNA binding protein 43
(TARDBP):

Transactive response DNA binding protein
(PGRN):

Progranulin
(MAPT):

Microtubule-associated protein
(PSP):

Progressive supranuclear palsy
(MRI):

Magnetic Resonance Imaging
(EMG):

Electromyography
(AVLT):

Auditory Verbal Learning Test
(MMSE):

Mini Mental State Examination
(ADL):

Activities of Daily Living
(VOSP):

Visual Object and Space Perception battery
(MSA):

Multiple System Atrophy
(DRS):

Dementia Rating Scale
Declarations
Acknowledgements
This study was partly supported by Austrian-Czech bilateral OAD project (2008-12/CZ 04/2008), by the Czech Ministry of Education (research program MŠM 0021620849) and grants 309/09/1053 and 309/09/P204 of the Grant Agency of Czech Republic. The authors wish to thank Pavel Fendrych, MD, PhD (IKEM hospital, Prague, Czech Republic), Josef Vymazal, MD, DSc (Homolka Hospital Prague, Czech Republic) and Zdeněk Seidl, MD, PhD (General Faculty Hospital, Prague, Czech Republic), for providing MRI services, and Tom Secrest for revisions on the English version of this article.
Authors' Affiliations
(1)
Department of Neurology, Thomayer Teaching Hospital and Institute for Postgraduate Education in Medicine, Prague, Czech Republic
(2)
Institute of Neurology, Medical University of Vienna, Vienna, Austria
(3)
Department of Neurology, Charles University, 2nd Medical Faculty and Motol Teaching Hospital, Prague, Czech Republic
(4)
International Clinical Research Center, Brno, Czech Republic
(5)
Centre of Gerontology and Faculty of Humanity Studies, Charles University in Prague, Prague, Czech Republic
(6)
Department of Pathology and Molecular Medicine, Thomayer Teaching Hospital, Prague, Czech Republic
(7)
Department of Neurology and Centre of Clinical Neuroscience, First Faculty of Medicine, Charles University in Prague,
Copyright
© Rusina et al; licensee BioMed Central Ltd. 2011
This article is published under license to BioMed Central Ltd. This is an Open Access article distributed under the terms of the Creative Commons Attribution License (http://creativecommons.org/licenses/by/2.0), which permits unrestricted use, distribution, and reproduction in any medium, provided the original work is properly cited.