Review

Open Access

Open Peer Review
This article has Open Peer Review reports available.
Gray matter imaging in multiple sclerosis: what have we learned?
Received: 10 October 2011
Accepted: 12 December 2011
Published: 12 December 2011
Abstract
At the early onset of the 20th century, several studies already reported that the gray matter was implicated in the histopathology of multiple sclerosis (MS). However, as white matter pathology long received predominant attention in this disease, and histological staining techniques for detecting myelin in the gray matter were suboptimal, it was not until the beginning of the 21st century that the true extent and importance of gray matter pathology in MS was finally recognized. Gray matter damage was shown to be frequent and extensive, and more pronounced in the progressive disease phases. Several studies subsequently demonstrated that the histopathology of gray matter lesions differs from that of white matter lesions. Unfortunately, imaging of pathology in gray matter structures proved to be difficult, especially when using conventional magnetic resonance imaging (MRI) techniques. However, with the recent introduction of several more advanced MRI techniques, the detection of cortical and subcortical damage in MS has considerably improved. This has important consequences for studying the clinical correlates of gray matter damage. In this review, we provide an overview of what has been learned about imaging of gray matter damage in MS, and offer a brief perspective with regards to future developments in this field.
Keywords
Multiple SclerosisGray MatterMultiple Sclerosis PatientConventional Magnetic Resonance ImagingCortical Lesion
Background
For many years, focal inflammatory demyelination in the white matter (WM) was considered the most important pathological 'hallmark' of multiple sclerosis (MS). However, demyelination in the cerebral cortex was already observed in early pathology studies by Sander (1898), Dinkler (1904), Schob (1907) and Dawson (1916) [1–4]. After these initial, largely casuistic, descriptions of demyelination in the gray matter (GM) of MS patients, the topic was largely disregarded. This was mostly due to difficulties involved with the visualization of cortical GM lesions in the post mortem setting, in which conventional histochemical staining procedures were applied, as well as to a predominant attention for the generally more conspicuous process of inflammatory WM demyelination.
However, by the start of the 21
st
century, the focus within MS research slowly shifted back from WM to GM. In 2003, when new immunohistochemical staining techniques that improved the ex vivo detection of GM damage had become available, the presence and extent of GM demyelination was described in detail and pathophysiological processes causing GM damage, as well as its visualization with modern magnetic resonance imaging (MRI) techniques, became central issues in MS research (see Figure
1
).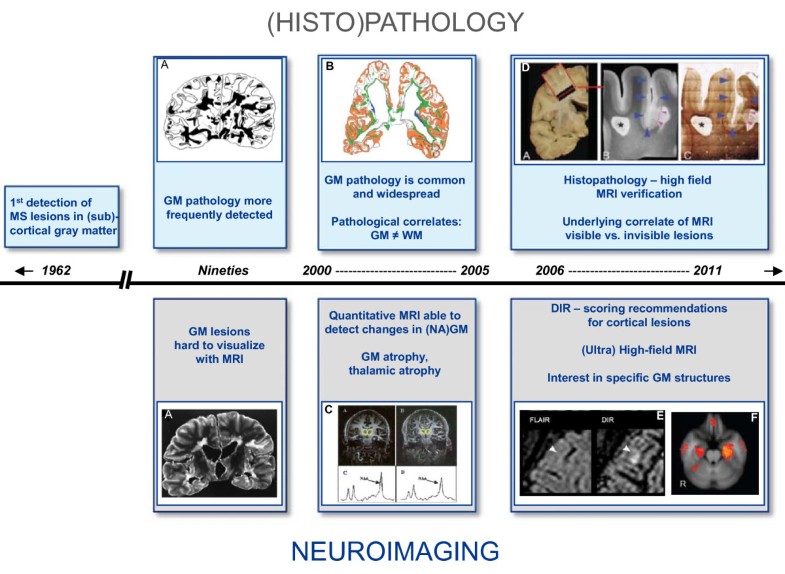 This review will focus on what has been learned in the past decade of imaging GM pathology in MS. As will be shown, visualization of GM demyelination was difficult at first, but improved upon technical developments in the field. An important question that now remains is whether MRI visualization of GM pathology in MS is sufficient, or whether further improvement is still needed.
Conclusions
What have we learned in GM imaging in MS?
▪ GM damage in MS is common and widespread, especially in chronic MS;

▪ The underlying pathological correlates of GM damage in MS are different from WM damage;

▪ GM pathology is present in all stages of the disease, but is more prominent in SPMS and PPMS compared to RRMS;

▪ Although a relatively non-specific measure of overall pathology, GM atrophy measurements are reliable and robust and correlate strongly with disability and cognitive impairment (more so than WM atrophy);

▪ Cortical lesions are of clinical relevance and are associated with a worse physical and cognitive performance;

▪ Cortical lesions have been difficult to visualize with conventional MRI, but due to newer imaging techniques (like DIR) lesion detection improved;

▪ Post mortem DIR verification showed high specificity of DIR lesions and increased sensitivity compared to conventional MR sequences; however, a substantial number of cortical lesions is still missed with in vivo MRI;

▪ International consensus guidelines on DIR cortical lesion scoring will likely improve the comparability of different DIR studies;

▪ (Ultra) high-field MRI holds promise for more precise detection of cortical lesions, with maybe even the possibility to categorize GM lesions in vivo according to the pathological classification system used post mortem; especially the detection of subpial lesions (type III lesions) is likely to benefit from the use of (ultra) high-field MR imaging;

▪ Non-neocortical GM damage is frequently detected in histopathological studies as well as on MRI. Thalamic and hippocampal abnormalities have been studied most extensively and were shown to correlate with clinical parameters;

▪ Besides structural changes in the GM of MS patients, functional changes can be detected as well by using fMRI; this should shed more light on the relationship between functional and structural changes in the MS brain in future studies.
Declarations
Acknowledgements
We thank the Dutch MS Research Foundation for supporting HEH (grant numbers: 02-358b, 08-648) and we thank Menno M. Schoonheim for providing Figure 3.
Authors' Affiliations
(1)
Department of Radiology, VU University Medical Centre, Amsterdam, The Netherlands
(2)
Department of Anatomy and Neurosciences, section of Clinical Neuroscience, VU University Medical Centre, Amsterdam, The Netherlands
Copyright
© Hulst and Geurts; licensee BioMed Central Ltd. 2011
This article is published under license to BioMed Central Ltd. This is an Open Access article distributed under the terms of the Creative Commons Attribution License (http://creativecommons.org/licenses/by/2.0), which permits unrestricted use, distribution, and reproduction in any medium, provided the original work is properly cited.