Study protocol

Open Access

Open Peer Review
This article has Open Peer Review reports available.
Design and baseline characteristics of the ParkFit study, a randomized controlled trial evaluating the effectiveness of a multifaceted behavioral program to increase physical activity in Parkinson patients
Received: 9 July 2010
Accepted: 19 August 2010
Published: 19 August 2010
Abstract
Background
Many patients with Parkinson's disease (PD) lead a sedentary lifestyle. Promotion of physical activities may beneficially affect the clinical presentation of PD, and perhaps even modify the course of PD. However, because of physical and cognitive impairments, patients with PD require specific support to increase their level of physical activity.
Methods
We developed the ParkFit Program: a PD-specific and multifaceted behavioral program to promote physical activity. The emphasis is on creating a behavioral change, using a combination of accepted behavioral motivation techniques. In addition, we designed a multicentre randomized clinical trial to investigate whether this ParkFit Program increases physical activity levels over two years in sedentary PD patients. We intended to include 700 sedentary patients. Primary endpoint is the time spent on physical activities per week, which will be measured every six months using an interview-based 7-day recall.
Results
In total 3453 PD patients were invited to participate. Ultimately, 586 patients - with a mean (SD) age of 64.1 (7.6) years and disease duration of 5.3 (4.5) years - entered the study. Study participants were younger, had a shorter disease duration and were less sedentary compared with eligible PD patients not willing to participate.
Discussion
The ParkFit trial is expected to yield important new evidence about behavioral interventions to promote physical activity in sedentary patients with PD. The results of the trial are expected in 2012.
Keywords
Physical ActivityPhysical TherapyPhysical Activity LevelFatigue Severity ScalePhysical Therapy Intervention
Background
Parkinson's disease (PD) is a progressive neurological disorder characterized by both motor symptoms (such as bradykinesia and postural instability) and non-motor symptoms (such as depression and cognitive impairment)[1]. Both motor and non-motor symptoms can result in reduced physical activity[2, 3].
Observations in non-parkinsonian populations suggest that participating in regular physical activity has preventive effects (e.g. cardiovascular events, diabetes mellitus, dementia)[4–6] and positive symptomatic effects (on depression[7], sleep disturbances[8], health-related quality of life)[9]. Studies in PD patients concluded that brief physical therapy interventions can improve flexibility, balance and muscle strength[10, 11]. In addition, preclinical evidence in animals with experimental parkinsonism raised the possibility that physical activity may directly alter the neurodegenerative process[12, 13].
A critical question remains how PD patients can be stimulated best to achieve an enduring increase in their physical activities in daily life, in order to prevent co-morbid complications and to improve symptoms.
Simply informing subjects about the health benefits of physical activity is not enough to attain a sustained behavioral change. The challenges to induce a lasting change in exercise behavior are particularly great for neurological patients. To change lifestyle, behavioral programs should focus on appropriate supervision, social support from spouses and caregivers, and the individual's preferences and needs[14–16]. Achieving an enduring behavioral change also calls for specific strategies such as goal setting, problem-solving techniques and motivational interviewing[14, 16, 17]. Physical activity promoting programs including such elements were effective in sedentary people[15], patients with chronic heart failure[16], and patients with COPD[18].
Stimulated by these observations, we developed the ParkFit program: a multifaceted intervention to promote physical activity in sedentary patients with PD. In addition, we developed the ParkFit trial to investigate whether this program affords increased physical activity levels that persist for two years. The trial will also search for possible health benefits and risks of increased physical activity. Here, we describe the study design and baseline characteristics of this ParkFit trial.
Results
Inclusion procedure
Selection of patients ran from September 2008 to January 2010. A total number of 4479 patients received a screening questionnaire; 587 (13.1%) did not respond, 439 (9.8%) were excluded because there was doubt about the diagnosis (Figure
2
). After invitation for participation, 1766 patients were excluded based on our exclusion criteria, and 1101 eligible patients were excluded because they were not willing to participate. Finally, 586 patients signed informed consent. The number of enrolled patients is less than the power calculation required. However, the power remains over 80% because only 60% of patients participates in exercise groups with an average group size of only three, whereas our power calculation assumed that all patients would participate in exercise in groups of eight patients.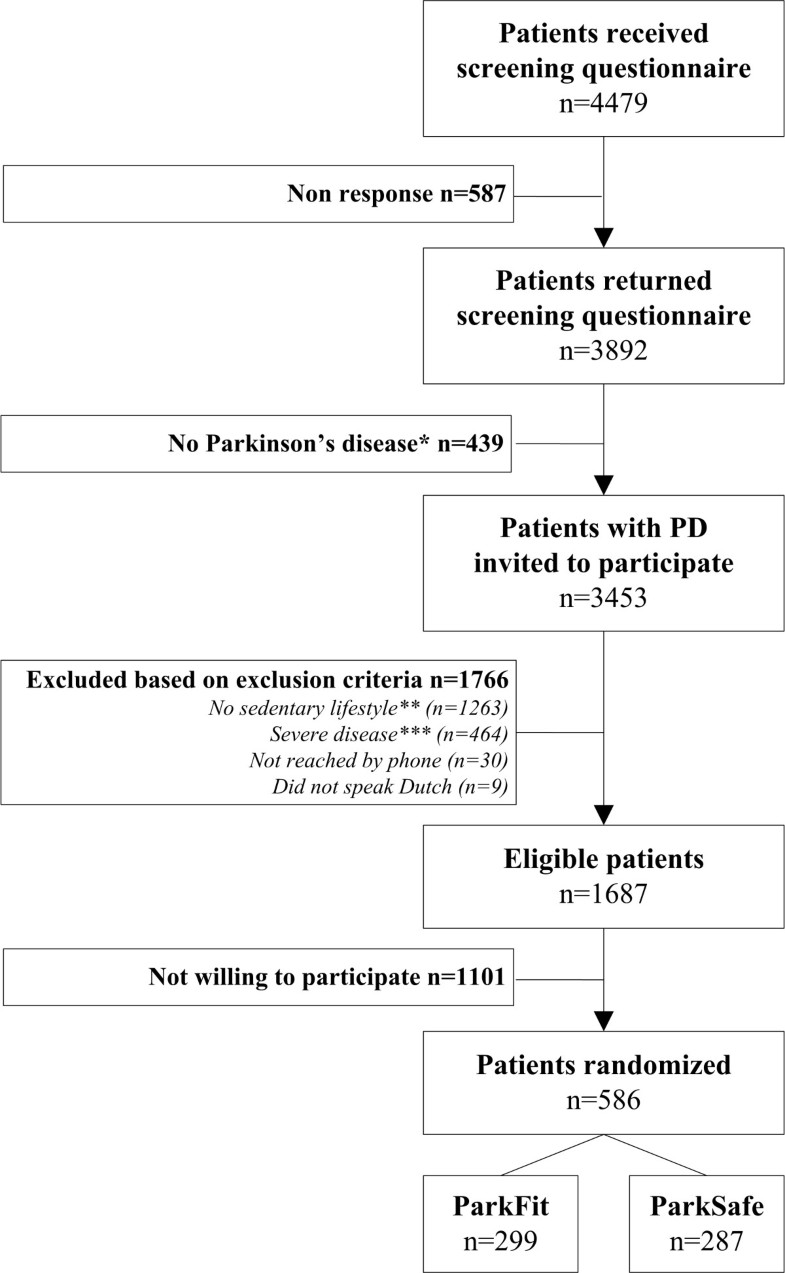 Baseline characteristics
The most relevant baseline characteristics of included patients are presented in Table
3
and compared with the characteristics of the complete cohort of PD patients and the cohort of patients who were eligible but not willing to participate. Study participants were younger, had a shorter disease duration and were less sedentary compared with eligible patients not willing to participate.
Table 3
Characteristics of the invited and included patients
Complete cohort

of PD patients

Eligible patients

Not willing to participate

Willing to participate

N

3453

1101

586

Gender (% male)

59.0

53.4

65.4

Age (years)

66.1 (7.2)

67.2 (7.1)

64.1 (7.6)

Disease duration (years)

6.2 (5.7)

6.0 (5.6)

5.3 (4.6)

Ability to walk (%)

Normal

814 (23.7)

232 (21.3)

157 (26.8)

Slow but independently

1747 (50.8)

556 (51.0)

348 (59.4)

Independently with walking aid

605 (17.6)

302 (27.7)

81 (13.8)

With help of someone

112 (3.3)

Wheelchair bounded

158 (4.6)

Level of physical activity (min/week)

144.8 (196.7)

40.1 (61.1)

59.2 (71.9)
Discussion
Several lines of evidence suggest that regular participation in physical activity could be important for patients with PD[47]. The ParkFit trial was designed to evaluate a multifaceted program to achieve an enduring increase in physical activity in PD patients. The intervention is based on accepted motivational and behavioral change models[14, 16, 17], which will now be employed for the first time in PD.
We carefully monitored the characteristics of all invited patients as well as eligible patients who were not willing to participate. The results demonstrate that among all PD patients who were invited, 64% indeed had a sedentary lifestyle. The results further demonstrate that eligible PD patients not willing to participate were on average somewhat more sedentary in comparison with the participants of the study. Should our study shows a beneficial effect of the ParkFit behavioral change program, efforts must be made to also reach out to this subgroup of sedentary patients.
A critical issue in rehabilitation studies is the choice for an appropriate control condition, and we have selected a program that emphasized safety of movement (according to evidence-based guidelines[32]), rather than the quantity of movements. Both intervention programs are matched for intensity, and are delivered by the same therapists. We have taken several measures to avoid bias between both treatment arms, rendering both groups comparable except for the focus on physical activities. Because the same therapists participate in both programs, differences in their personalities should not differ between the two treatment arms. A possible drawback is contamination. Furthermore, personal preference for a specific program can possibly introduce variation between therapists. We strive to avoid this by: (1) specific training, informing all therapists about the aim of the study and the do's and don'ts in both treatment arms. They have signed a contract and agreed to keep both programs separate. (2) The tools used in ParkFit are not freely available. Since all patients receive their own Activity Monitor and brochure, therapists cannot give these tools to patients allocated to ParkSafe. (3) During the trial, therapists are being visited and observed during one or more sessions. A standardized checklist of prescribed interventions will be completed to investigate if contamination is at play. (4) Each therapist will be interviewed, between 3 to 6 months after start of the program. The aim is to investigate how therapists put the program into practice, and to re-emphasize the do's and don'ts of both programs. (5) About every two months, the research team contacts each therapist to ask them about their individual aims in both treatment arms. Again, it is emphasized that coaching towards a more physically active lifestyle is not allowed in ParkSafe. (6) Yearly, a 'booster' session is planned for therapists to discuss possible problems and to re-emphasize the do's and don'ts.
A strong element of the ParkFit trial is the availability of our national ParkinsonNet networks[21], which allows us to administer the interventions in both treatment arms by therapists with documented experience in treating PD patients. The ParkFit trial is one of the largest and longest lifestyle intervention trials in PD, and is the first one to focus on behavioral change as an intermediate to achieve a sustained increase in physical activity levels.
The endpoints of this trial cover several complementary domains. A prerequisite is that patients will actually increase their physical activity levels. To document this, we have selected the time spent on physical activities per week as primary endpoint. We choose the LAPAQ as primary outcome measure instead of the Activity Monitor because a questionnaire covers a wider range of activities[48].
We also want to see whether physical activity affords any symptomatic relief of PD. To this end we have included a battery of additional endpoints (including quality of life) that measure possible health benefits for patients. Safety is also an issue, because physical activity may theoretically predispose patients to falls. Therefore, this will also be documented in this study. Furthermore, costs will be recorded, although we have no specific a priori reason to expect drastic increases or reductions in costs associated with the interventions of this trial.
In conclusion, the ParkFit trial is expected to yield important new knowledge about behavioral interventions for patients with PD to change their sedentary lifestyle. If the ParkFit Program shows good treatment compliance and beneficial symptomatic effects, future trials could identify which components of our multifaceted approach are most effective. In addition, positive results may have implications for different neurological disorders where beneficial effects of physical activity may be expected. The results of the ParkFit trial are scheduled for 2012.
Declarations
Acknowledgements
This research is supported by grants from ZonMw, The Netherlands Organization for Health Research and Development (75020012), and the Michael J Fox Foundation for Parkinson's research. Furthermore, health insurer VGZ financially supported the ParkFit study. Professor Bastiaan R. Bloem was supported by a NWO VIDI grant (016.076.352).
We would like to thank the local coordinators of the participating general hospitals:
A Winogrodzka (Academisch Ziekenhuis Maastricht); JCM Zijlmans (Amphia Ziekenhuis); GJ Tissingh (Atrium Medisch Centrum); K Keizer (Catharina-ziekenhuis); HJMM Lohmann (Deventer Ziekenhuis); R van Koningsveld (Elkerliek Ziekenhuis); AJW Boon (Erasmus Medisch Centrum); E van Wensen and FE Strijks (Gelre Ziekenhuizen); GA van Meer (Groene Hart Ziekenhuis); A Mosch (HagaZiekenhuis); JP ter Bruggen (Jeroen Bosch Ziekenhuis); MF Roesdi (Kennemer Gasthuis); E Berger ('t Lange Land Ziekenhuis and Medisch Centrum Haaglanden); AGGC Korten (Laurentius Ziekenhuis); M Westerink (Maasstad Ziekenhuis); M Aramideh (Medisch Centrum Alkmaar); R Rundervoort (Medisch Centrum Haaglanden); FA Rooyer (Orbis Medisch Centrum); DJ Kamphuis (Reinier de Graaf Groep); GJ de Jong (Sint Franciscus Gasthuis); L van Hooff (Franciscus Ziekenhuis); K Lemmen (Slingeland Ziekenhuis); ThJM Breuer (St. Anna Ziekenhuis); JMJ Krul and PM Laboyrie (Tergooiziekenhuizen); FJW Opstelten (VieCuri Medisch Centrum); AMG Sas (Vlietland Ziekenhuis); PJ Nederveen (Westfriesgasthuis), J Lion (Ziekenhuis Bernhoven); and C Jansen (Ziekenhuis Gelderse Vallei) for their participation in the ParkFit study group.
Furthermore, we would like to thank JW Custers and PJ van der Wees (Royal Dutch Society for Physical therapy), SI Detaille and V Peters (Seneca, Expertise Centre for Sport, Work and Health, HAN University of Applied Sciences), MT Hopman (Department of Physiology, Radboud University Nijmegen Medical Centre), MWA Jongert (TNO Netherlands Organization for Applied Scientific Research), YPT Kamsma (University Medical Center Groningen), SHJ Keus (Departments of Physical Therapy and Neurology, Leiden University Medical Centre; Department of Neurology, Donders Institute for Brain, Cognition and Behavior, Radboud University Nijmegen Medical Centre), G Kwakkel (VU University Medical Center), H Leutscher (Disability Sports Netherlands), W Oerlemans (HAN University of Applied Sciences), CJM van Santen (Society of Exercise Therapists Cesar and Mensendieck), NHMJ van Velthoven (Netherlands Olympic Committee * Netherlands Sports Federation), AMJ van de Wert (Netherlands Institute for Sport en Physical Activity), and T Wolff (Parkinson Vereniging) for their participation in the ParkFit advisory board.
Authors' Affiliations
(1)
Radboud University Nijmegen Medical Centre (RUNMC); Nijmegen Centre for Evidence Based Practice (NCEBP), Department of Neurology, Nijmegen, The Netherlands
(2)
RUNMC; Donders Institute for Brain, Cognition and Behavior, Department of Neurology, Nijmegen, The Netherlands
(3)
RUNMC; Departments of Rehabilitation and Allied Health Occupations, Nijmegen, The Netherlands
(4)
HAN University of Applied Sciences, Nijmegen, The Netherlands
(5)
RUNMC; Department of Epidemiology, Biostatistics and HTA, Nijmegen, The Netherlands
(6)
University Medical Center Utrecht; Department of Rehabilitation, Nursing Science and Sport, Utrecht, The Netherlands
(7)
RUNMC; Nijmegen Centre for Evidence Based Practice (NCEBP), Scientific Institute for Quality of Healthcare, Nijmegen, The Netherlands
Copyright
© van Nimwegen et al; licensee BioMed Central Ltd. 2010
This article is published under license to BioMed Central Ltd. This is an Open Access article distributed under the terms of the Creative Commons Attribution License (http://creativecommons.org/licenses/by/2.0), which permits unrestricted use, distribution, and reproduction in any medium, provided the original work is properly cited.